NEWS ALERT
During the early days of the Covid Pandemic, the band's leader composed and recorded a blues called COVID-19 Jazz Blues; it can be heard at this link to You Tube : COVID-19 Jazz Blues
For over a century, blues musicians have sung about natural disasters (Mississippi floods) and man made disasters (the Great Depression). In that tradition, SF Bay Area musicians reflect on the tragedies and hardships brought on by Covid-19 in the early days of 2020.
During the ongoing Pandemic, the San Francisco Feetwarmers are pleased to share their traditional jazz recordings via YouTube in the hope that they will bring some happiness and solace in difficult times; they have uploaded some 34 performances and counting - links to four example videos : Just a Closer Walk , Saint Louis Blues , Petite Fleur , Saratoga Shout.
Enjoy, stay safe and stay well until we can once again play live for you .... and that is gonna be sooo good!

THE FEETWARMERS
Legendary Bay Area musicians playing joyful classic jazz from the foot- stomping roaring twenties. Top draw music for parties, weddings, festivals, jazz clubs, faculty clubs, fund raisers, dances, business events, street fairs .......
This fine band has been featured at the Sacramento Jubilee, the Fairmont on Nob Hill and has had a long residency at the historic Baltic Restaurant in Point Richmond..
Formed in 1993, they are the hot band to hear at jazz festivals and clubs all over the Golden State. Their repertoire spans the wonderful music of Morton, King Oliver, Bechet, Armstrong, Fats Waller and early Ellington. The San Francisco Feetwarmers will get your toes tapping, put a smile on your face and their driving four beat rhythm will get you dancing to all your Dixieland and New Orleans favorites.
"These guys ...... play the real thing!" says Mike Foley of the Sacramento Traditional Jazz Society.

San Francisco Feetwarmers....that's an unusual name? Not when you recall the great Sidney Bechet's New Orleans Feetwarmers and Duke Ellington's Harlem Feetwarmers. It is the perfect name for a band known for playing classic jazz with a touch of class.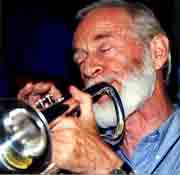 Book a Jazz Band
Need a fine band for your next function? The Feetwarmers can deliver either
o The full eight piece San Francisco Feetwarmers for larger gatherings, or
o The San Francisco Feetwarmers Five for smaller gatherings, or
o A hot quartet, Mike Slack's New Orleans Jazz Band NOJB for more inimate functions, and parties.
Whatever size group you need, contact Mike Slack contact ... leader of the SF Feetwarmers ... and be assured of the very best music. (Should they be booked on the date you need, Mike will put you in touch with another available high quality local band playing similar music.)

Sound Samples


S.F. Feetwarmers sound samples are on our CD's page CD's . See also our Videos page.

Jazz History


Learn more about early jazz musicians ... check out our legends pages Jazz Legends .
---
News Flash : New CD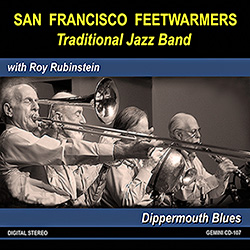 New CD - "Dippermouth Blues" - has been released on Sept. 1, 2012 by the San Francisco Feetwarmers Jazz Band and features the great Roy Rubinstein (see Chicago Hot Six) on trombone, along with Mike Slack and Tom Barnebey on cornets, and Pete Main on reeds. What a front line!
A masterwork containg &nbsp All the Girls go Crazy, High Society, Snag It Blues, Muskrat Ramble, Just a Closer Walk, Dippermouth Blues, Speak Softly Love, Buddy's Habits, Lady Love, Some Day Sweetheart, Frog-i-more Rag, Canal St Blues and more. 72 mins of the finest classic jazz.

See CD's page for more details CD's .





---
(See also Mike Slack Images a world class photography site.)

---