... playing New Orleans, Dixieland & Traditional Jazz


Home
Photo Album
News
Musicians
Gigs
CD's
Reviews
Jazz Legends
Links
Contact

NEWS FLASH
Great Party Gig to start 2015


On Jan 31, 2015 the Feetwarmers played for Dee Webers birthday party at a private home facing onto Stinson Beach.
Fabulous location! Loads of fun. Hot music.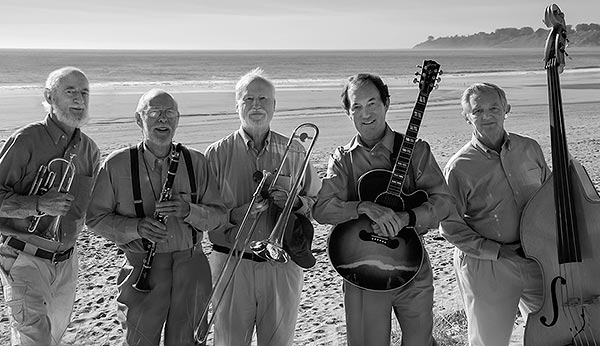 San Francisco Feetwarmers at Stinson Beach


---
Latest CD Released on Sept. 1, 2012.


Following the Rossmoor session - see below - the San Francisco Feetwarmers recorded material for their new CD, "Dippermouth Blues" Gemini CD-107, with Mike Cogan as the sound engineer.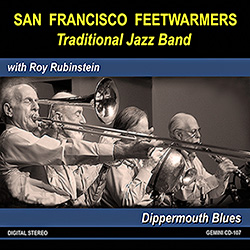 The CD features Mike Slack and Tom Barnebey on cornets (King Oliver style), guest artist Roy Rubinstein on trombone and Peter Main on reeds. Bill Gould is on piano, Bill DeKuiper on guitar, Tom Clark on bass fiddle, and Hugh O'Donnell on drums.


An exceptional masterwork containg &nbsp All the Girls go Crazy, High Society, Snag It Blues, Muskrat Ramble, Just a Closer Walk, Dippermouth Blues, Speak Softly Love, Buddy's Habits, Lady Love, Some Day Sweetheart, Frog-i-more Rag, Canal St Blues and more.
72 mins of the finest classic jazz.


CD's page contains details CD's .



---
Roy Rubinstein was the featured trombonist
with the San Francisco Feetwarmers Jazz Band
on
Wednesday April 25, 2012, 7:30 to 10:00 PM.
at
The Rossmoor Jazz Soc, The Club House at Rossmoor, Walnut Creek, CA
Roy leads Roy Rubinstein's Chicago Hot Six and is well known in the Bay Area for exciting performances with Mike Slack and with the SF Feetwarmers at Sacramento.



Roy Rubinstein (trombone) blowing up a storm with the SFF
---
selected prrevious news items are listed below
---
Mike Slack's New Orleans Jazz Band
were featured at
THE VINE
135 Parrott Street, San Leandro, CA
on Saturday July 23 2011, 7pm - 9pm.
A great place to enjoy great wine and tappas plus fabulous music.
(link to The Vine Vine )
---
San Francisco Feetwarmers Jazz Band
were at
CLINE CELLARS WINE & JAZZ FESTIVAL
Cline Cellars, Sonoma, CA
on Saturday July 17 2010, 11am - 6pm.
Picnics on the lawn and fabulous music.

---
Mike Slack's New Orleans Jazz Band were a big hit at
ANNA'S JAZZ ISLAND,
2120 Allston Way , Berkeley, CA
at 7:00 pm on Sunday June 14, 2010.

Mike Slack's New Orleans Jazz Band is drawn from the San Francisco Feetwarmers, and features Mike on cornet, Jim Rothermel on reeds,
Darby on vocals, Bill DeKuiper on Guitar and Tom Clark on str. bass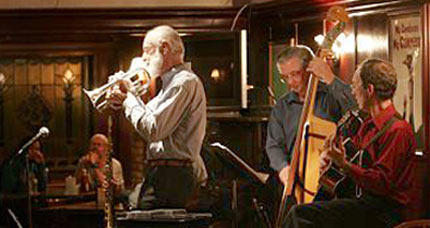 The quartet in action .... photo by Kai Shuman.

Directions to ANNA'S JAZZ ISLAND
Located at 2120 Allston Way, Berkeley (cross street = Shattuck) and convenient to BART and local Parking.

For info on more music at Anna's check this Link ANNA'S

"A day without good trad jazz is like a day without sunshine."

---